Back from a Seattle adventure, January 14, 2015, Lori Christie met a Seattleite, who shot this picture.  More than meets the eye, here is an article by Chuck Marunde:
Who is Lori Christie? Lori has a personal story that is fascinating, and she has an impressive real estate career. First, the real estate side of Lori. She has been a licensed real estate broker for 10 years and a managing broker for 4 years. She also was licensed as a mortgage loan officer for 7 years.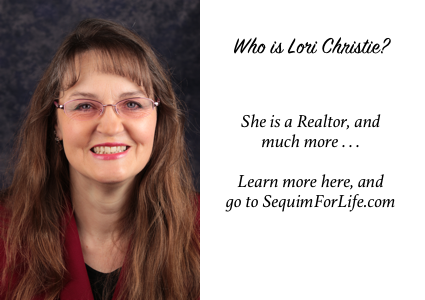 You won't find that kind of valuable experience in very many real estate brokers. Her understanding of real estate transactions and financing brings a lot to the table for her clients, especially in this challenging real estate market where the dramatic changes in the mortgage industry have raised hurdles for so many buyers. Lori has represented clients from Washington, Oregon, California, Nevada, North Carolina, Wisconsin, Colorado, Alaska, Hawaii, and the list goes on.
Who is Lori Christie? Education and Career
Lori also has a Bachelor of Arts degree in Organizational Management, which is a major advantage when it comes to handling and coordinating transaction details and communicating with clients. When answering the question, "Who is Lori Christie?,"  her clients love the fact that Lori is articulate and so positive in all her communications.
iRealty Virtual Brokers, also known as Sequim & Port Angeles Real Estate, based in Sequim, Washington, was extremely pleased to bring Lori on board. Not only does she have tremendous real estate knowledge, experience, and competence, she also holds to the same core values of the brokerage, which includes values like honesty, integrity, loyalty, and hard work. She also believes in putting each of her clients at the center of the Universe in all she does. Her clients' best interests are her number one priority, and she would rather walk away from a commission than to close a transaction that is not in a client's best interest.
iRealty is on the cutting edge of using technology and the Internet to reach the most qualified buyers for the Sequim, Port Angeles, and Port Townsend markets. Lori is an industry leader using this technology, which also puts her ahead of 95% of Realtors in the country. Home sellers need to know that their listing agent has a powerful marketing system that reaches highly qualified buyers, and Lori is light years ahead of her colleagues in this regard.
Lori also has a fascinating personal story.
Lori and her husband, Leonard, recently purchased 5 acres above Sequim in the Foothills of the Olympic Mountains. While it took an excavator, 11 of their fruit trees were moved to their acreage when they were in full bloom. Six of them are producing fruit already! The chickens are free ranging, while the vegetable garden is on the drawing board for next year. The big project on this property right now is building a custom log home. This entails logging the trees on the property, skidding the logs, peeling, stacking, and assembling. Lori's husband, Leonard, is one of those men who is incredibly strong, and when he goes to work on a project, there's no stopping him.  All this helps explain the question, "Who is Lori Christie?"
Who is Lori Christie? Her Children
Lori has two amazing children who are now grown up and changing the world with their own unique gifts. At 15, Andrea won 3rd place in a nationwide talent show in Los Angeles. That led to eight years of performing at ski resorts in Colorado and in bands in New York and Connecticutt. Andrea is now married, works as an Assistant Manager of luxury apartments, in Seattle.  Lori's son, Robert, has blossomed with a career in leasing, as a Leasing Consultant, in California. He plays electric guitar, excels in writing, and has the perfect "broadcaster" voice. This is an amazing accomplishment for Robert considering his childhood Epilepsy and stuttering.
Lori's life in Sequim is like awakening to a new adventure every day. She lives surrounded by a forest, but is only ten minutes from shopping. She enjoys hiking, and there is a plethora of hiking trails in Sequim (crowned by the 130 mile Olympic Discovery Trail spanning from Port Angeles to Port Townsend and running right through Sequim). As an avid mushroom enthusiast (the legal non-hallucinogenic type), she was thrilled to find she could forage multiple varieties.
Lori has found it is an easy drive into the Olympics, also to the Sequim Dungeness Lighthouse Beach, and to visit the Dungeness River Audobon Center, where there is a Train Trestle Bridge over the Dungeness River, a leg of the Olympic Discovery Trail. The John Wayne Marina is an ideal boat launch. Sometimes a ferry to Victoria from Port Angeles for a daily jaunt is fun. It is amazing that all this can be done on the same day. Lori often says that there is no place like Sequim in the world, and she feels blessed to live and work in Paradise.
Lori loves her work, because she loves her clients. You can text Lori or call her at 360-340-4891, or you can email her at SequimLiving@gmail.com. Of course, you can keep up with her at SequimForLife.com. She is virtually here, to serve you better, and working "green," as in paperless digital business to conserve the environment. Now you can answer the question, "Who is Lori Christie."
Written by Chuck Marunde, original article at  http://www.sequim-real-estate-blog.com/exclusive-buyers-agent/who-is-lori-christie/